…we'll be on our way to Benin!
It's about time, huh? After all, it's been almost a year and a half since I joined the Foreign Service. A good number of my A-100 classmates know their second assignment. Actually, some of them have started their second assignment.
But I have a very good (and cute) reason for being behind schedule: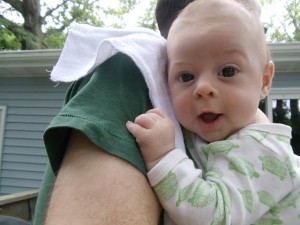 It's still so weird for me to think that this strange and exciting lifestyle I've chosen isn't going to seem all that strange and exciting to Flynn. It will be his normal.
He's certainly off to a good start with this nomadic thing. In his short 10-week life he's already spent the night in seven different places in five different states. He's slept in various pack 'n' plays and bouncers and swings, not to mention in the arms of dozens of friends and family members.
Two years in one place? At this rate, that might seem like an eternity.