After two years of living somewhere with no public parks and playgrounds, and only several play places which were of questionable cleanliness and whose safety standards left a lot to be desired, I've been thoroughly enjoying a summer full of free and cheap activities with my toddler.
Libraries!
Puppet shows!
Lego days!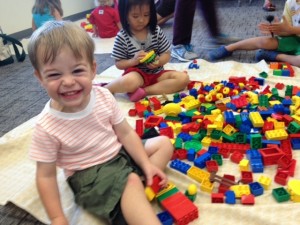 Reading to dogs!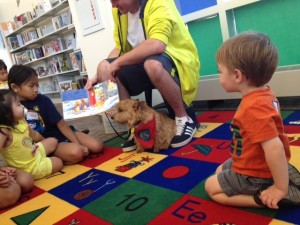 Story time!
Playgrounds!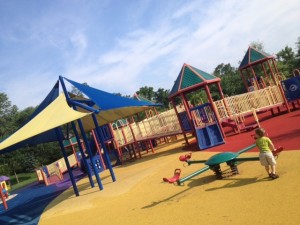 Spraygrounds!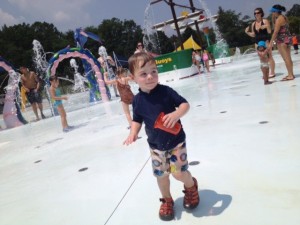 Swimming pools!
Indoor play places!
Movies!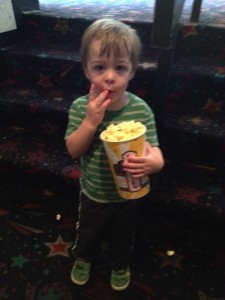 Even grocery store trips are fun!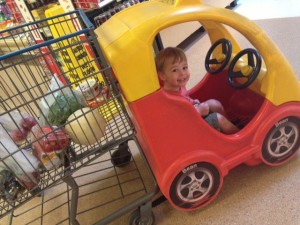 For other interested parties, here are some good resources for finding free and cheap toddler activities in and around Falls Church/Arlington/Fairfax County.
Playgrounds: The Meanest Mommy is a great blog with a quite extensive list of playground reviews in and around Arlington. Find out whether it's shaded, whether it's geared towards older or younger kids, whether there's parking, and whether it's generally worth a trip before heading out. Tip: Clemyjontri in McLean is a playground on steroids and definitely worth seeing, but note there's little shade and it gets hot and very crowded so it's best to go early and/or on an overcast day.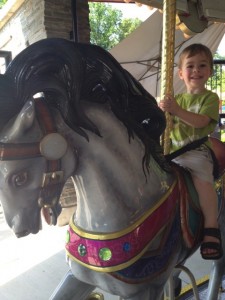 Red Tricycle: A great site newly launched in D.C. that already has lots of kid activity ideas, and will surely only get better with time. There are lists of things you can do whenever (the best places in the area to paddleboat, for instance) and also announcements about special events (county fairs, etc.).
Meetup.com: Join a moms group or a playgroup. Or, if you're not the group joining type, just skim the meet-up listings and steal their good ideas about places to go.
Public pools: Most pools in the area are for members only, and memberships are quite hard to come by especially for those of us here temporarily, but there are a few public options. We especially enjoyed Ocean Dunes which is relatively cheap and very convenient (in Arlington) but are also looking forward to traveling a little further out (Reston) to explore Water Mine and its magical looking lazy river.
Spraygrounds: Sometime between when I was a kid and now "spray grounds" or "splash parks" or "spray parks" have apparently become all the rage. I guess this keeps kids out of public fountains, which is how I remember cooling down as a kid. See the link for a list of most spray grounds in NOVA. Tip: Our Special Harbor is the biggest and best free option, like the Clemyjontri of spraygrounds.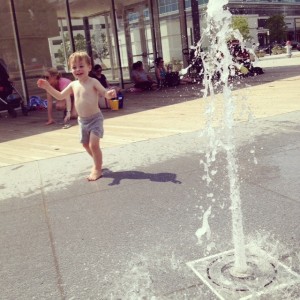 Library story hours: Our closest public library has story hours but you have to register in advance and oftentimes it's wait list only. However, Mary Riley Styles library in Falls Church has summer story times every Tuesday and Thursday morning with no registration required. An easy craft follows story time. In addition to books, the library also has lots of puzzles and games for kids to enjoy.
Discount movies: Angelika Film Center at the Mosaic District has "Crybaby matinees" with discounted pricing and no expectation of keeping your little ones quiet; the movies are geared towards adults so this is best for those with babies looking for a few hours of escape. For movies kids will enjoy, check out University Mall Theatres in Fairfax: every Tuesday morning there's a $2 film geared at little ones.
Indoor play places: Sometimes it's just too hot to be outside. In that case we've found ourselves hanging out in free mall play areas (Tyson's Corner has an especially good one for toddlers) or, my personal favorite, PB & Jack, a soft play area whose $10 admission includes adult supervision of your little one while you hang out in the connected coffee shop taking advantage of the free WiFi and the relative quiet. IKEA Woodbridge also has free childcare in its play area while you shop but this is limited to potty trained kiddos so not yet an option for us.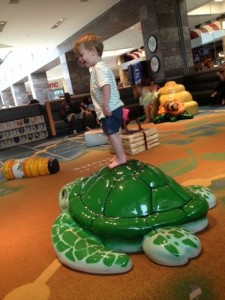 Now 38 weeks pregnant, I'm starting to wind down with this constant flurry of activities, but luckily for Flynn his grandma has moved here from Illinois and is looking to explore all Northern Virginia has to offer too.