If you don't already know about the show Mouk, keep reading.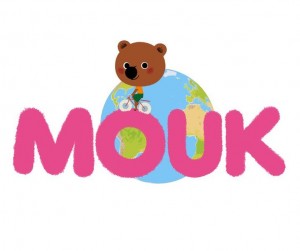 In addition to being well done with catchy but not irritating tunes and whimsical imagery, it sends a great message: Meeting new people and learning about new cultures is interesting and worthwhile.
"Mouk and Chavapa are two globetrotters cycling around the world. From Ouagadougou to New York, from Australia to Madagascar and Greece, the two buddies discover the world and its inhabitants… And as everything's different from home, adventure is always at the end of the road!"
I especially love that Mouk and Chavapa start each episode by talking via webcam with their friends and family back home — just like Flynn does every weekend.
As bizarre as our Foreign Service lifestyle seems at times — and as big as the sacrifices sometimes feel when there are little ones involved — it's not really all that unusual to be living far from loved ones. With young people flocking to cities more and more, with increasing immigration, with the rise of international businesses, how many people these days actually live close to extended family? Almost no one.
Flynn's generation may very well grow up thinking weekly Skype dates with grandparents are just as normal as the weekly corned beef Sunday brunches that I remember.