If you ask any expat in Cotonou about the city you're bound to get an answer that goes a little something like this: "It's safe, the people are nice, it's a good place, but… there's not a lot to do." A few months in it seemed like we'd pretty much discovered it all.
On several occasions lately, though, we've stumbled upon somewhere new and interesting and found ourselves wondering, "How in the world have we not been here before?" We're going to blame the whole baby thing.
One such recent discovery was Foundation Zinsou, an art museum we actually did know about but never bothered to visit. Last Sunday, we finally did. And it was lovely — a small two-floor modern and professional space, right now filled with an exhibition by a South African artist; knowledgeable local guides in bow ties there to give you a private guided tour; a quirky gift shop; and a bright little cafe.
Andy was delighted to be able to buy a smoothie in the cafe, even though Flynn ended up drinking more than Andy did.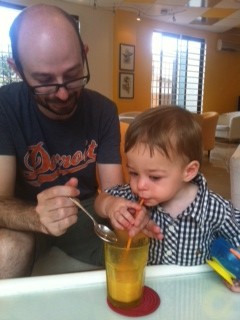 Flynn was delighted to discover a rocking horse in the gift shop ("horsie" is a current favorite word), even though his parents said no we couldn't take it home.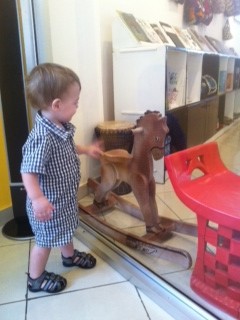 And I was delighted to find an artistic venue small enough not to interfere with my short attention span.
Best of all it's open all day Sunday, when everything else in town seems to be closed. We'll certainly be back.