Here's something I didn't know before joining the Foreign Service: the Fourth of July is a big freaking deal.
Sure, I celebrated July 4th growing up. In fact, I have lovely memories of it. Watching the fireworks on the train tracks with dozens of my closest neighborhood friends. Piling in the backs of various wood-paneled station wagons to return to our block. Scurrying over to the Muldoon family's backyard to feast on watermelon. Then enjoying another fireworks display orchestrated by the neighborhood dads.
But I have similarly lovely memories of Easter. And Christmas. And Thanksgiving. And Memorial Day. And New Year's. The Fourth of July seemed like just another holiday until I signed up to work for the U.S. government.
At U.S. Embassies and Consulates around the globe, the Fourth of July celebration is the diplomatic event of the year. Planning meetings start at least six months in advance. There are committees. Sub-committees. Budgets. Guest lists. Protocol issues. Headaches.
Fortunately for me, my first Fourth of July experience was not at all the headache I had been warned to expect. It probably helped that we happened to be back in D.C. during many of the early planning meetings. It also probably helped that we are currently between Ambassadors at post, so the Chargé d'Affaires decided it would be more appropriate to go a slightly more casual, slightly more low key route.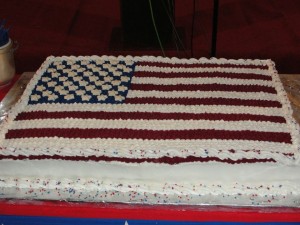 Really, it turned out to be a nice evening. Hamburgers and hot dogs shipped all the way from the U.S. Real American corn. Interesting guests. Delicious cake. A U.S. military band. Together with Andy I manned "zone B," making sure people in our area circulated and the space remained presentable. I also handled the press. But my main contribution to the event was the Chargé d'Affaires' keynote address. She asked for something very different from past speeches — patriotic but also lighthearted. I worked hard to strike the right balance and was happy both to hear the audience chuckle and to later learn that the Minister of Foreign Affairs complimented the speech and asked if he could have a copy. Phew. Major diplomatic crisis averted.
Oh, and no, you're not going crazy: I am indeed writing in the past tense about the Fourth of July before the actual Fourth of July. Our July 4 party was held on June 30. Go figure.