Hi there, Abbey the beagle here. It's been a while since you've heard from me, but I need to write now because something very serious has happened — my owners up and left me!
It's been over two weeks now, and I have no idea where they are. Rumor has it that my boy owner might not be back for quite some time, and let's be honest, we all know he's my favorite (I could do without the other two, frankly).
Last thing I knew we were all together enjoying a nice family Christmas.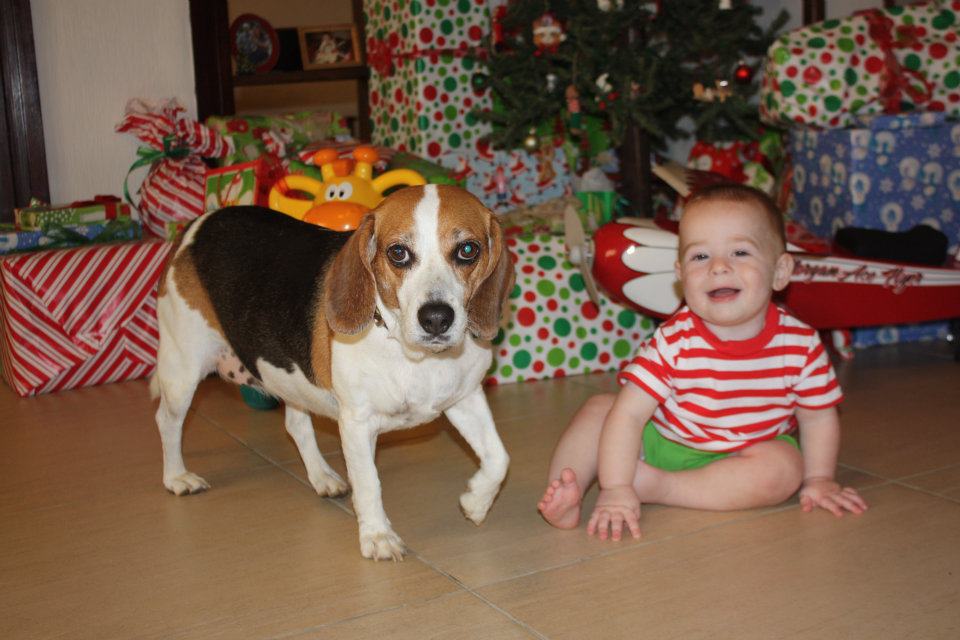 Then, boom, gone.
What did I do to deserve this?
I suspect it might have something to with that new miniature owner. But you all need to understand that it doesn't count as stealing his food if he is the one to reach down to give it to me! And licking it off his face? Well, once it's on his face it's no good to him, now is it? I'm just helping. And yes, sure, one time I accidentally bit his hand going for a cracker, but it was a mistake and I served my time out in the yard and learned a valuable lesson.
If you want to know the truth, my owners have not paid enough attention to me since that little guy came along. So really, I should be the ones punishing them. But I miss them anyway. The lady who usually tags along with the little guy is here tagging along with me now. She lets me sleep under the covers with her so I guess she's alright. And I hear she also saved me from having to go live in a house with other dogs, because she knows how much I hate other dogs. So that's good at least, but I'd still like my owners to come back, even the little one. Please tell them that whatever I did, I'm very sorry.