Here's some stuff that's happened recently that we've been too busy to tell you about:
1. I took my first work trip outside of Cotonou, about a six-hour drive north to a city called Parakou. I spent four days telling thousands of high school and college students about study opportunities for them in the United States. The days were very fun and rewarding, but in the evenings I missed my little guy a ton. I also missed warm showers.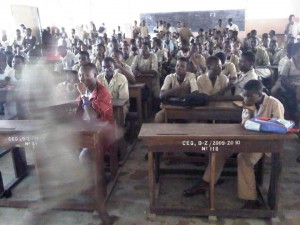 No, this is not my attempt at an artsy photo; it's just the best my Blackberry camera could do with movement.
2. The Pope came and went. We saw neither him nor the Popemobile, so the visit was pretty uneventful for us besides how it impacted our day when he arrived on Friday. On Tuesday his arrival date was declared a holiday. At about 10 p.m. Thursday evening, however, it become not a holiday, so we spent an hour notifying the people who work in our section and trying to get a hold of our nanny to ask her if she could pretty please come to work after all. Then, about 15 minutes after we arrived at work Friday morning, it became a holiday again. Go figure.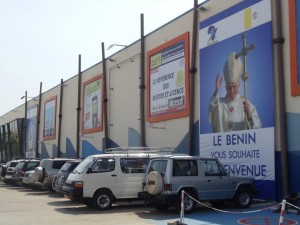 Even though we didn't see the Pope himself, it kind of seems like we did — his face is plastered all over town.
3. The new consular officer finally arrived, which means Andy is no longer heading up the consular section by default. Boy is he happy! He's worked very hard the last few months, and it hasn't gone unnoticed. The Ambassador gave him the highest award one can receive in the State Department; he also mentioned that he can't think of anyone he knows who has won such an award so early in their State Department career. First ConGen valedictorian, now this. It's like Andy's trying to make the rest of us look bad. 🙂
4. Flynn spent his first Turkey Day with about 60 other Americans at the Ambassador's residence. He mostly slept through it, until he woke up and somehow climbed out of his car seat and knocked his noodle on the ground. Parenting fail.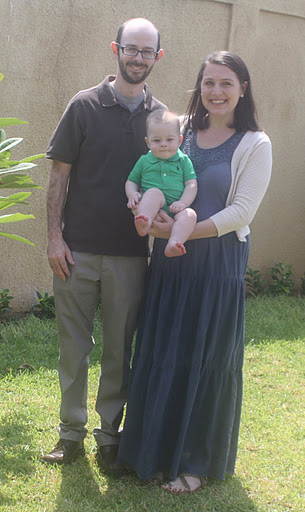 Us, pre-"the great Thanksgiving head bump."