The last of our stuff has arrived! It's been a long time coming.
Both the air shipment (UAB) and sea shipment (HHE) that we sent from DC were waiting for us when we got here, which meant the journey took less than six weeks. Our car arrived seven weeks after we sent it. But our last shipment of HHE — the stuff we packed up from our Brooklyn apartment when we joined the Foreign Service a year and a half ago, and that's been sitting in storage in Virginia ever since — trailed behind everything else for some inexplicable reason. Fifteen weeks later, it's finally here.
Of all of the shipments to arrive slowly, I'm glad it was this one. After all, if we've managed without this stuff for a year and a half, how important can it really be?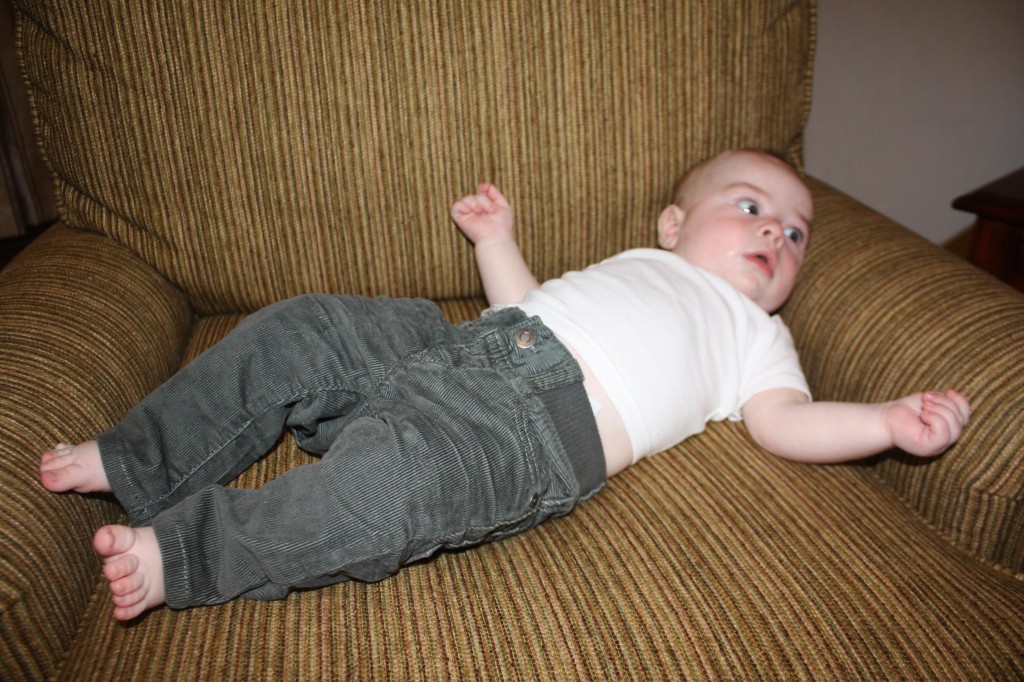 Last time we saw our stuff this guy didn't even exist yet, and now he's big enough to kick back and watch some TV!
Still, we're glad to have it. Now that everything's here we can finally start making this house feel like a home. That room that we've been using exclusively for boxes from Amazon.com purchases? Now it'll be another guest bedroom, thanks to our new bed and dresser set. That other room that we've been using just as a storage place for Flynn's pack 'n play? Now, a den complete with couch and TV. Plus, now that all our wall decor is here, we can finally figure out where to hang everything.
We're so excited about getting things set up that we decided to spend our upcoming three-day weekend unpacking rather than vacationing. Are we nuts? Maybe. But the beach will still be there in November when a bunch more three-day weekends await us.