No one quite knew what to make of the fact that we were moving to Benin. One of the most common questions we fielded was, "Where will you… live?" (Imagine this said through a worried scowl.)
"No, we won't live in a hut, and yes, we'll have running water and electricity," we always explained.
Finally, we have pictures to prove it! Here's an introductory tour of our (not so humble) abode.
First, the neighborhood. This isn't actually our street, although it's identical to our street.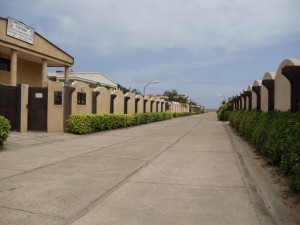 It's ironic that as much as I hate subdivisions and their cookie cutter houses in the U.S., I wind up living in what must be the only one in Benin. Somehow, it doesn't bother me here.
Inside a wall there's a big front yard and a small backyard. It's all Abbey's territory, and she lets every guard or maintenance person who enters know that.
Now, let's go inside. There are two living rooms downstairs. Here's a view into the first.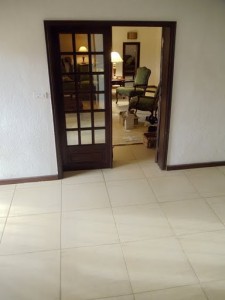 And here it is again.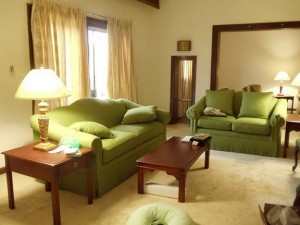 The couches are surprisingly okay by Foreign Service standards. (Sadly, government issued furniture is awful.)
We'll probably end up spending more time in the second living room, since it's where Andy's giant new TV will be.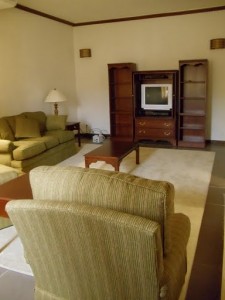 Behind where I'm standing to take this picture is a space that will work nicely as a play area for Flynn.
Also downstairs? The kitchen. It's a little drab, but at least it's big.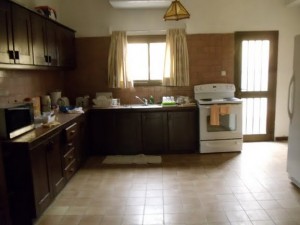 No, your eyes aren't deceiving you. No dishwashers in Africa. Darn. We do have a fridge and giant freezer that are out of frame, as well as a distiller that gives us clean water.
I'll skip over the dining room and downstairs bedroom and bathroom. Nothing too exciting to see there. You don't need to see the laundry room or the foyer either. But here's one more downstairs shot. It's the half-bathroom for visitors.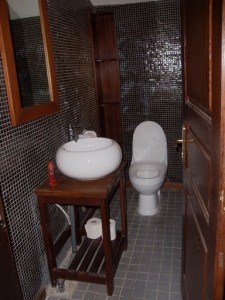 Modern, huh? It's a design I might even have picked for myself!
Okay, now let's move upstairs…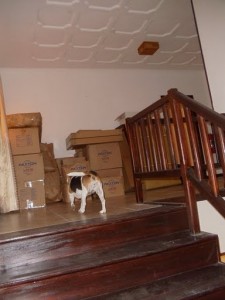 There's a pretty big landing at the top of the stairs that we have no idea what we'll do with. Without all those boxes it looks very, very empty. But that's not the point of the picture. I wanted to show you these ceilings which are in most of the rooms upstairs. I really like them.
Now, moving along to what will be Flynn's room…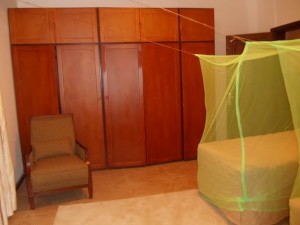 We picked it because it's the smallest bedroom, so it feels quaint like I think a nursery should. We also realized later that it's the only bedroom in the house with an ocean view. Lucky guy.
And this will be Flynn's bathroom. (Yep, there's a tub in there too.)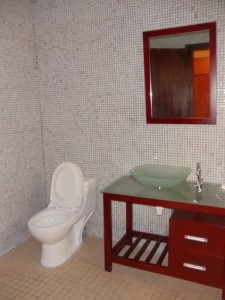 Again, unexpectedly modern and well designed.
And now we move on to the guest bedroom. Pardon all the boxes, but hopefully you can still see enough to realize that it's huge. And the attached bathroom is huge too. See, all the more reason to come visit!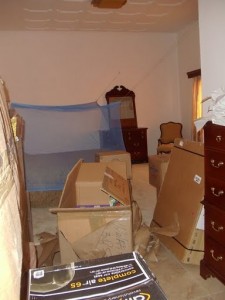 The coolest thing upstairs is the master suite. It's not just a bedroom. There's also this huge bathroom:
That picture doesn't even capture its true size. It's honestly bigger than our living room in Brooklyn was. Admittedly our living room was very small, but still. There's also this strange space-age shower that sprays you in all directions like a car wash.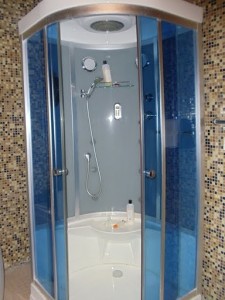 But that's not all there is to the master suite. There's also another room that we plan to use as an office and living room. And from that room you can access a big balcony from which you can see and hear the ocean.
And that concludes our tour.
We're happy with the house. We like it pretty well as is, and once we're able to add some personal touches we think it'll be really great. More pictures to come when things are set up, I promise.