We're back, but not for long.
We rolled in last night, and Andy went off to to collect our stuff from storage. Today we finished packing up our suitcases and handed off our car to the company that'll be shipping it. Now, since we're carless, we're stranded at our airport hotel for about 24 hours. It's pretty depressing that our last meal in America for a while will likely be the skeevy diner across the street. But at least, having nothing better to do, we can get our fill of low-brow TV without guilt.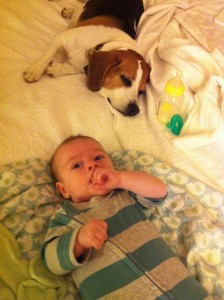 (Sleeping and eating one's own fist took precedence over packing for these two.)
In honor of our final day in the DC area, here are a few of the things we've liked most about living here for the past 16 months:
So long, DC!