Today Flynn turns two! Okay, okay — two months, not two years, and he's really not terrible at all. But it does feels more like two years than two months; it's hard to remember life before the little guy. It's probably good we don't dwell too much about life before Flynn, though, because we've already broken a fair number of our parenting resolutions.
Pre-baby promise #1: He will always be dressed in cute clothes.
Reality: Eh, he's just going to get it dirty soon anyway; sometimes a diaper is good enough.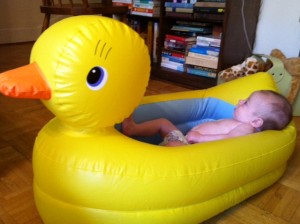 Just chilling in my duck.
Pre-baby promise #2: We will continue our lifestyle of minimalism.
Reality: That toy makes him bust out the slightest smile? Buy 10 of them!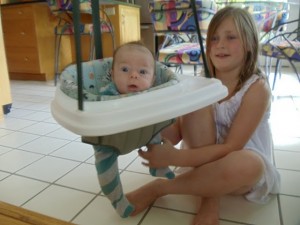 Imagine how much more fun this will be when my feet touch the ground!
Pre-baby promise #3: Early on we'll start him on a strict sleep schedule.
Reality: We're grateful for any sleep he decides to bestow upon us, whenever and wherever it should come.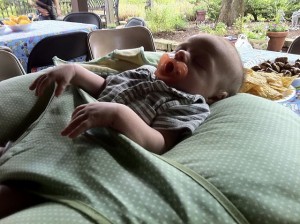 Yes, I sleep on patio tables. What's it to you?
Pre-baby promise #4: We won't let Flynn take too much attention away from Abbey.
Reality: Whoops — totally forgot about Abbey for this year's family picture. Sorry girl. Maybe next time.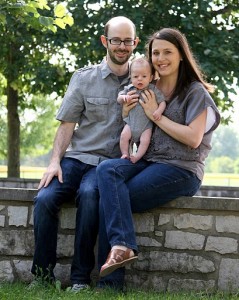 The one picture in which Flynn isn't crying or sleeping.
Pre-baby promise #5: We won't burden Flynn with unrealistic goals and expectations.
Reality: Based on his early interest in standing, we've decided he should be walking any day now.

Thanks for the help Mom, but I've got this.