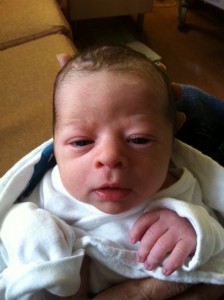 I'm Flynn Charles, named after two grandparents I wish I got to meet, my dad's mom Lynn and my mom's dad Charles.
I came into the world on May 12 at 5:13 p.m. — just a minute away from being born at 5:12 on 5/12. Darn! But at least I made it here before Friday the 13th.
I weigh 7 pounds 8 ounces and am 20 inches long. I came into the world hand first, waving hello to my mom and dad, who seem very nice but very tired. Luckily my grandma Jeanne is here to help, and my other grandparents Russ and Sherrie are on their way. I'm also very excited to meet my beagle. I bet I can cry louder than she can.