It's been a little while since I've written a post. Last time I gave you an update I had just learned a great new skill – how to shake. My owners were real excited about that. Well guess what I figured out how to do now? Yep, I can lay on command. I admit I sometimes get confused and lay when I'm supposed to sit, or shake when I'm supposed to lay, but the number of treats I've been getting lately tells me I'm doing something right.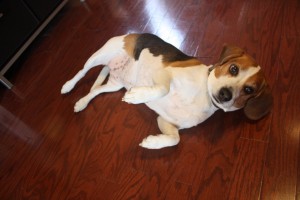 In other news, I've overheard a lot of conversations about some upcoming trips. The first one seems fun. I'm going back to the midwest! Apparently once the baby comes, we're going to stay in DC for a while and then head to my vacation home. I love it there because I get to see a lot of people who always give me extra food. (Also, could someone please explain to me what a baby is? I think it's a new kind of stuffed toy, but I want to be sure.)
The other trip doesn't make me so excited. I'm getting in an airplane and going over the ocean. That's not happening for a while, but my boy owner is pretty stressed out about it. He said to someone on the phone that because it might be hot during the summer, some airplanes won't let me on. If they won't let me on, I'm afraid I'll get left here by myself. Does anyone out there have any advice on how to get a (very well-behaved) beagle to Africa during the summer? Please? It's pretty important.