Since Andy doesn't think it's important enough to tell you, I will. Guess who was named valedictorian of our ConGen class during "graduation" last week? Yep, my husband! A win for EFMs everywhere!
Too bad this victory was immediately followed by  several miserable days of moving. But the good news is that we're done, and everyone is settling in nicely — except maybe Abbey, who spends even more of her day than usual sleeping. (She's never lived in a house with stairs before, and climbing them to tag along any time either one of us goes upstairs is proving quite tiring.)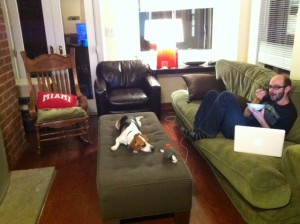 We, however, love the new place. The hardwood floors. The exposed brick. The location. The two levels. The fact that you can open the front door and let in fresh air. In Andy's words: "I think this is the only apartment I've ever had that I've actually liked." Most importantly, it'll be a good place to bring home the baby in 10 weeks. Or eight. Eight sounds pretty good right now, as I drag myself out of bed from the evening nap that's become a part of my daily routine.