As former New Yorkers, we appreciate a good brunch. Sure, you can have brunch elsewhere in the country, but it's just not the same — not even in other big cities like DC. Not as many places offer brunch, for one thing, and even those that do oftentimes only have it on Sundays. But most importantly, it's just not always all that good. Here it's a meal, not a ritual.
We've heard time and again that Tabard Inn has the best brunch in DC, and this weekend we finally got around to testing out that claim.
The verdict? Definitely good, but hopefully not the very best in all of DC. For me, the highlight was the restaurant itself. "Labyrinthine" was the word Andy used. The restaurant fills a number of different rooms connected by narrow hallways and steep staircases. Hardwood floors and quirky antique-y furniture give it a cozy feel. The food was solid. We tried out these, their famous donuts: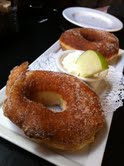 We also had huevos rancheros and french toast. Everything was good, but not so good I'm going to have cravings for it in the future, which I guess is my criteria for best brunch around.
Other notable DC-area brunches:
Liberty Tavern, Clarendon: Their Sunday buffet for $19 is pretty remarkable. It's the closest thing to gourmet I've ever seen in a buffet.
Whitlow's on Wilson, Clarendon: Another brunch buffet. This one is a few bucks cheaper, but you lose a lot in quality. The only reason to go is if you're craving crab legs.
Volt, Frederick: Amazing, but at $35/person for their pre fixe menu, you pay for the amazingness. Plus, it's like a 45-minute drive away.
Ted's Bulletin, Capital Hill: Simple breakfast foods, done well. Or so Andy tells me. I was here in the height of my morning sickness.
Belga Cafe, Capital Hill: If I recall correctly the food at this other celebrated DC brunch spot was tasty and a bit unique, but it's hard to remember because the waiter rushed us out so quickly.
Busboys & Poets, Shirlington: Eh, only a notch or two above Bob Evans. But I put this one on the list because I hear the original location in the U Street Corridor is incredible. I haven't made it there yet, sadly.
Other brunch suggestions are most certainly welcome!
P.S. No, our housing / per diem situation is still not resolved. In fact, it's gotten way more complicated. More about that next week, when (hopefully!) everything's settled.