From what I can tell so far, being a diplomat is pretty much the coolest job in the world. I have absolutely no regrets about embarking on this career path. That's not to say, though, that it's without its challenges.
It's not the job itself that raised my stress level about ten-fold today. Nope, today Andy and I had our nonimmigrant visa exam and both got 100%; no sweat. In fact, it would have been a pretty fine day if much of the rest of it weren't spent on the phone dealing with bureaucratic HR complications.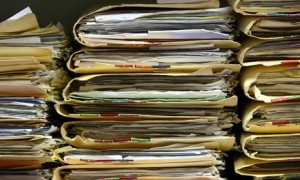 (Before I tell you the story, I must warn you that, as most stories about bureaucracy go, this one is long and dull…)
When we found out we were pregnant and staying in DC longer than originally scheduled, I started asking questions and trying to make plans. The vast majority of people I reached out to never returned my calls or emails. The few poor people I did manage to get on the phone thought it was amusing that I was trying to lock something down a full six months beforehand. That silly new hire, they must have thought, She'll learn. Fortunately, though, a few people did humor me and give me some information: we'd be kicked out of our government-provided housing after the one-year mark and forced to find (and pay for) a furnished rental for our remaining months in DC. This wasn't ideal, of course, but if it was how things had to be, then we could live with it.
Months later, after hearing through the grapevine that the information I originally got might only be partially true, I began tracking down official sources again. Sure enough, I learned that we actually could stay in our government provided housing beyond the one-year mark, although we'd have some additional tax liabilities as a result. After many phone calls, lots of research and an appointment with a tax advisor, we decided that the tax burden was still a better deal — financially and logistically — than moving. So, our plan changed. No problem.
Today, however, during a conversation about something else entirely, I heard from an official source that I may not actually be eligible to stay on per diem (and in government-provided housing) after all. Despite what official sources had told me before, a different official source was now telling me she thought that after I finished training and began my bridge assignment at Main State, I would no longer be in temporary status and hence not eligible for per diem.
Um, what?
If that's the rule, that's the rule. I can live with it. I'm grateful for all the benefits we get as FSOs; State's been very good to us so far. But, why did I hear nothing about this before, despite asking numerous people on numerous occasions? Why am I only hearing about it now, two weeks before my training ends and I may be kicked out of my apartment?
Still, there's more.
As annoying as it would be to find and move into a new apartment in two weeks time (and not just any apartment, mind you, but a short-term, furnished and dog-friendly rental, which is pretty impossible to come by in DC if you're not willing to pay $4,000/month, which I'm not), I could even deal with that. Because I would have to. Because it would just be how things are. Because the decision would be made and it would be out of my hands.
No, that would be too easy.
It turns out there's a medical per diem that I might be eligible for, since I'm staying in DC longer as a result of being pregnant. (I dug up this information from the rule books myself. The official sources hadn't heard of it.) The problem is, no one really knows for sure if I qualify. Some official sources think I'm eligible. Some official sources think I'm not eligible. Who has the final say? No clue. Many phone calls have been made. Many emails have been sent. What do I do in the meantime? Do I start packing? Do I start looking for apartments? Do I come to terms with being many thousands of dollars poorer than I thought I was this morning? For now, I guess I just wait.
In conclusion: ugh.
At least I've learned a few important lessons along the way about navigating the bureaucracy that is State HR:
Forget about planning ahead. Nothing's urgent until it's urgent.
The rules are nuanced and case specific. Don't assume that what was true for another FSO will be true for you.
Only trust answers from official sources. But remember, even the official sources are working from the same nuanced and case specific rules that you are. They may misinterpret them too.
Make sure you get all your answers from those official sources in writing.
When you have all your answers in writing, ask more official sources.
Get those answers in writing too.
Wait a few weeks or a few months, and then ask the same questions again.
Even when you think you have everything sorted out, be prepared for the fact that things might change.
Eat a few brownies. It's really the only thing that does any good.