As of Wednesday I'm another year older: the big three-one.
The bad news is that my birthday was dominated by perhaps the worst activity in the world: driving. I spent the day transporting my wife, beagle, loads of Christmas presents and (for reasons unknown to me) two unwieldy rocking chairs from Ohio back to DC. With a wife who's always thought it's necessary to stop constantly on road trips and is leveraging her pregnancy to finally win this battle, it took longer than I would have liked. And did I mention that the aforementioned beagle was terrified of the aforementioned rocking chairs, and as a result spent most of the drive either a) barking at, or b) trying to climb to the front seat to escape them?
But afterward I got to relax at home with two new hours of Law & Order awaiting me. So the day wasn't a total bust.
And then on Friday… Alex surprised me with a cooking class at CulinAerie. Just about the only thing I would have liked more was hockey tickets, but alas, the Red Wings aren't playing the Capitals in DC this year, and as much fun as it would be to see Ovechkin, I just can't too excited about seeing the Capitals play the Panthers.
Instead we learned to cook a few new dishes: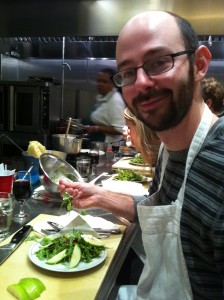 First course: arugula salad with miso dressing.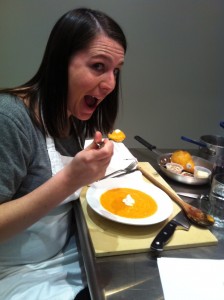 Second course: carrot ginger soup.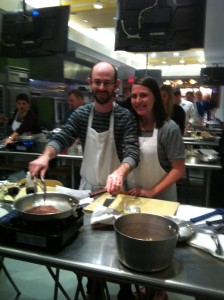 Third course: Honey-thyme flank steak with cabbage stew.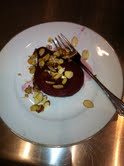 Dessert: poached pear with toasted almonds.
The best part about the cooking class was that we got to enjoy two of my favorite things – cooking and eating, without having to buy ingredients, choose recipes or clean anything. It makes me think that perhaps we will want to hire some help while in Benin. It also served as a reminder that I'd like to at least attempt to learn to cook some authentic Beninois dishes over the next two years. When I turn 32, we'll see how I've done.