Oops — Andy and I ended up giving one another one of the same presents! These snazzy, "I survived language training at FSI" mugs: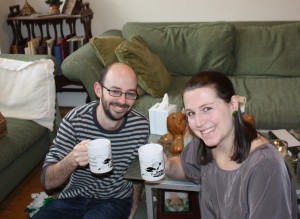 Other Foreign Service-related gifts?
This cool picture from my aunt: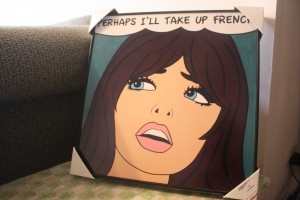 And this bizarre novel my mom found; it might very well be the only English-language book set in Benin: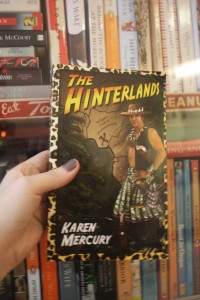 The year is 1896. Legendary leopard hunter Brendan Donivan battles to protect his adopted homeland's sacred civilization from the colonial expansion of the British. All the while, New York anthropologist Elle Bowie arrives to study clitoridectomy and — you guessed it — ends up falling in love. "To a guy who wears a skirt, no less," explains the back cover.
Fine literature, I'm sure. =)
Those three were really it, which I think means we've finally reached a point in our Foreign Service lives where not everything revolves around this crazy lifestyle we've signed up for and the anticipation of what it's bringing next. It's about time. I got quite a bit of winter gear even though this might be my last winter in a while. Andy also got the new iPhone, even though I'm still not convinced he's going to be able to use it in Benin.
As for Abbey, well, she's pretty bummed that the yet-to-be-born baby is already scoring more presents than she is.