It's been two weeks, but with the arrival of our unaccompanied baggage to our apartment in DC, it is finally time for the recap of our big pack out.
I've mentioned it before, but I think it bears repeating, we had a tiny apartment.  We measured it at less than 300 sq ft.  The coat closet in our new apartment is twice as large as the only closet we had in Brooklyn.  Because of the size of our apartment, we figured our pack out would be a snap.  We gave ourselves an entire day to get organized before the movers arrived but thought we'd be done in two hours, tops.
And that's when we ran into problems.  Ironically, it was the size of our apartment that made organizing and packing harder than we thought.  You see, when you have a small apartment, it becomes very difficult to organize your belongings into the appropriate groups.  There was just no room for piles.  Sure, we wanted all of our UAB in one room with our HHE in the other, but it just didn't work out that way.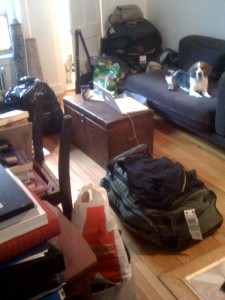 When the movers did arrive – four of them – it was difficult to navigate through the maze of boxes and furniture.  All the advice we read about removing your UAB first went out the window when we realized there was no way for anyone to actually get to our UAB pile.  So things were carried out of our apartment in groups.  A little HHE here, some permanent storage there, then a dash of UAB.
The next challenge was squeezing everything we could into our UAB.  I'm proud to say we used every last pound.  Since we were renting a car to drive down to DC we thought we would have plenty of space, but it was used up surprisingly fast.  Some last minute decisions had to be made about what would be in our UAB, what would be HHE and what we could take in our car.  Crock pot?  UAB.  Bread maker?  HHE.  Dog?  Depended on how well she behaved the rest of the afternoon.
If we were to give advice to future A-100 packers, we'd tell them to organize as much as possible so the movers can do their work without stopping to confirm what went where.  Putting your UAB in a separate room as your HHE would be ideal.  Also, since our UAB took two weeks to travel 250 miles, don't assume things will be delivered promptly.
When all was said and done, the movers were at the apartment for a little over four hours.  We're happy to say they were nice and, despite the amount of time it took, seemed to work quickly.  We were able to pack everything we really needed into our car and the secondary necessities went into UAB with no problems.  Sure there were a few items that were packed up accidentally, but you can't win them all.
Then we said goodbye to the first apartment we ever had together and began looking forward to telling our future kids that if they thought their bedrooms were small, they should have seen the 300 sq ft apartment their parents shared with a dog in Brooklyn, New York.