I need a new computer. Why? Well, my current computer looks like this: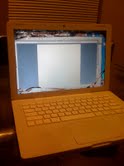 How did that happen, you ask? On the night of my Oral Assessment, I fell asleep with it in my bed watching The West Wing. I woke up to find the computer on the floor, with a few tiny red lines in the corner. Ugh. Although maybe it was a good thing: not passing the OA wasn't an option, as I knew those lines would forever remind me of my failure.
Over the next few months the lines spread, and they still seemed to be taunting me. When you're not granted a medical clearance and your dreams of the Foreign Service die, we'll still be here. Fortunately all went well and the lines don't hold any negative association; however, they've spread to be more like red globs, and they're proving problematic in other ways. They've overtaken important parts of my screen, for instance. (When I need to know the time, I have to Google "time NYC.")
So, it's probably time for a new computer, but I can't decide what to get. Here are the standings:
Team Mac
Aesthetically cooler
More user-friendly (as least for a user that's me)
Tend to last longer
Small Federal employee discount
Team PC
Cheaper
Allegedly easier to service around the world, especially in hardship sort of places
What State uses
Any important things I'm overlooking?